Disclaimer: this recipe is based on one from thekitchn.com, but with a few slight modifications made that dramatically improve the quality of the dish, in the author's opinion. 
I had never had Indian food until a few years ago, but I became pretty quickly hooked on it, thanks to this dish.
Chicken Tikka Masala is perhaps the whitest thing one can get at an Indian restaurant, and it isn't really even Indian. It was developed mostly in Britain based on flavors that British soldiers became accustomed to during Britain's colonization of India.
In any case, I think it is delicious, so sue me. It's also pretty easy to make.
The basic framework of the recipe is as follows: marinate some chicken in yogurt for a few hours, broil the chicken, saute some onions, add a crap-ton of spices, put in some tomato sauce, add some cream, add the broiled chicken, serve with rice.
You'll notice that most Chicken Tikka Masala recipes on the internet are just derivatives of this framework, most of the time with the proportions of spices being different.
The recipe I derived mine from was okay, but they do not simmer the sauce for nearly long enough, which gives you a raw tomato flavor that does not work for the dish, in my opinion. I use crushed tomatoes rather than diced, for a finer texture, and a full cup of cream rather than 3/4 cup. Cream comes in 1 cup cartons, so I figured why not just dump the whole thing in.
I like to use a nice big dutch oven, as this gives me extra room to aggressively stir without making a mess.
After the chicken has marinated, saute some onions until they are translucent and you get a nice fond on the bottom.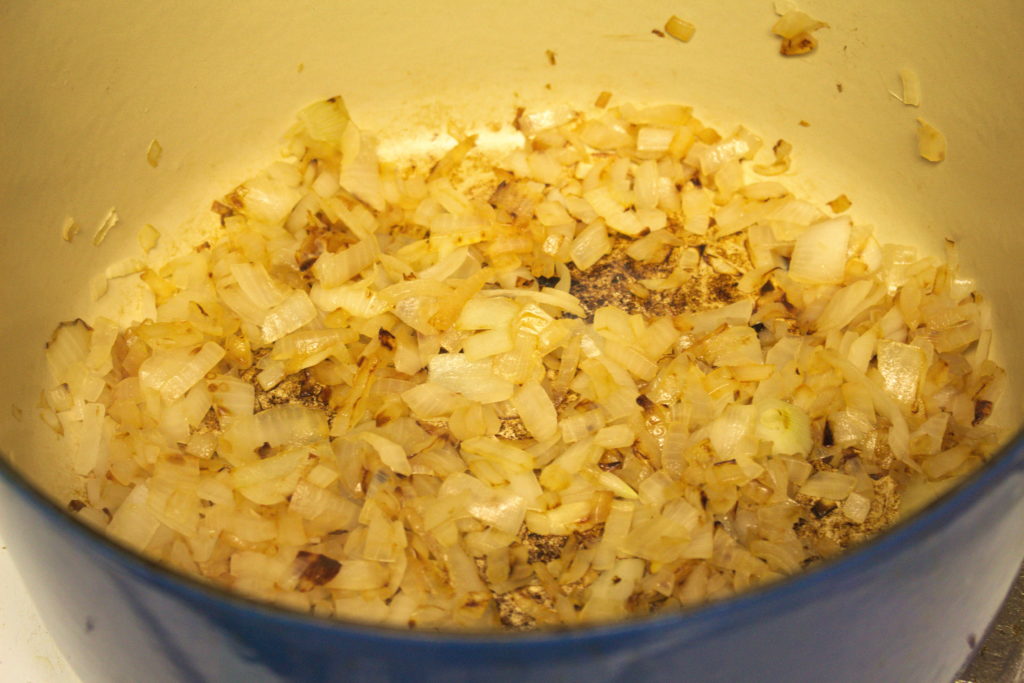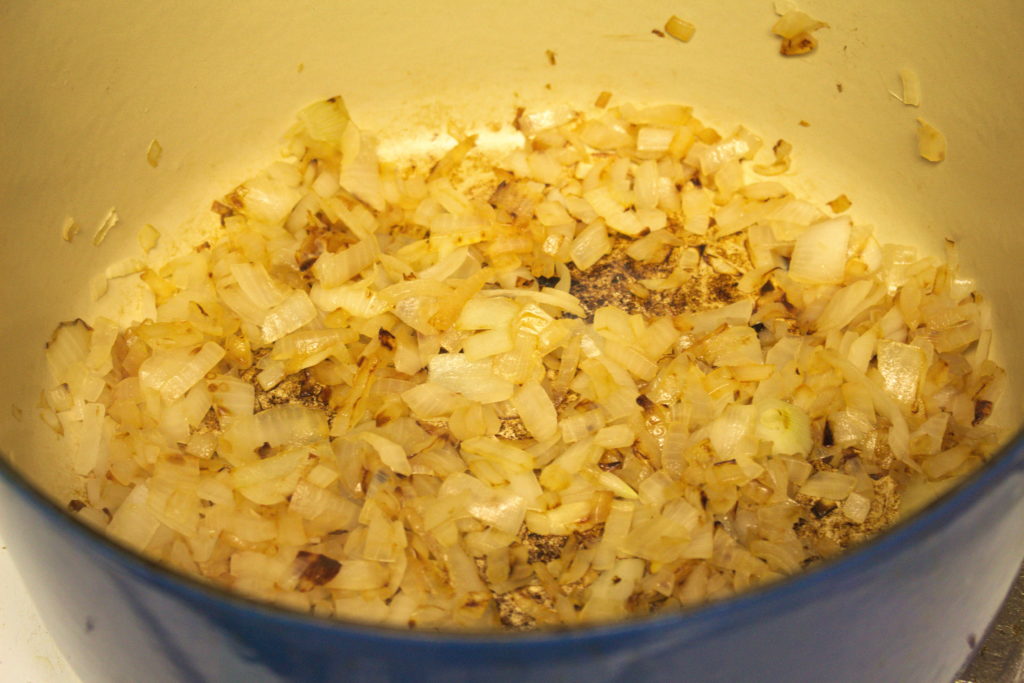 After adding the spices, tomato paste, garlic, and ginger, add the crushed tomatoes, cover, and simmer. The longer you simmer, the better. In the past I have even thrown this in a 300 degree oven and braised for 2 hours, but simmering on low heat for 30 minutes seems to get a similar result (in 1/4 the time).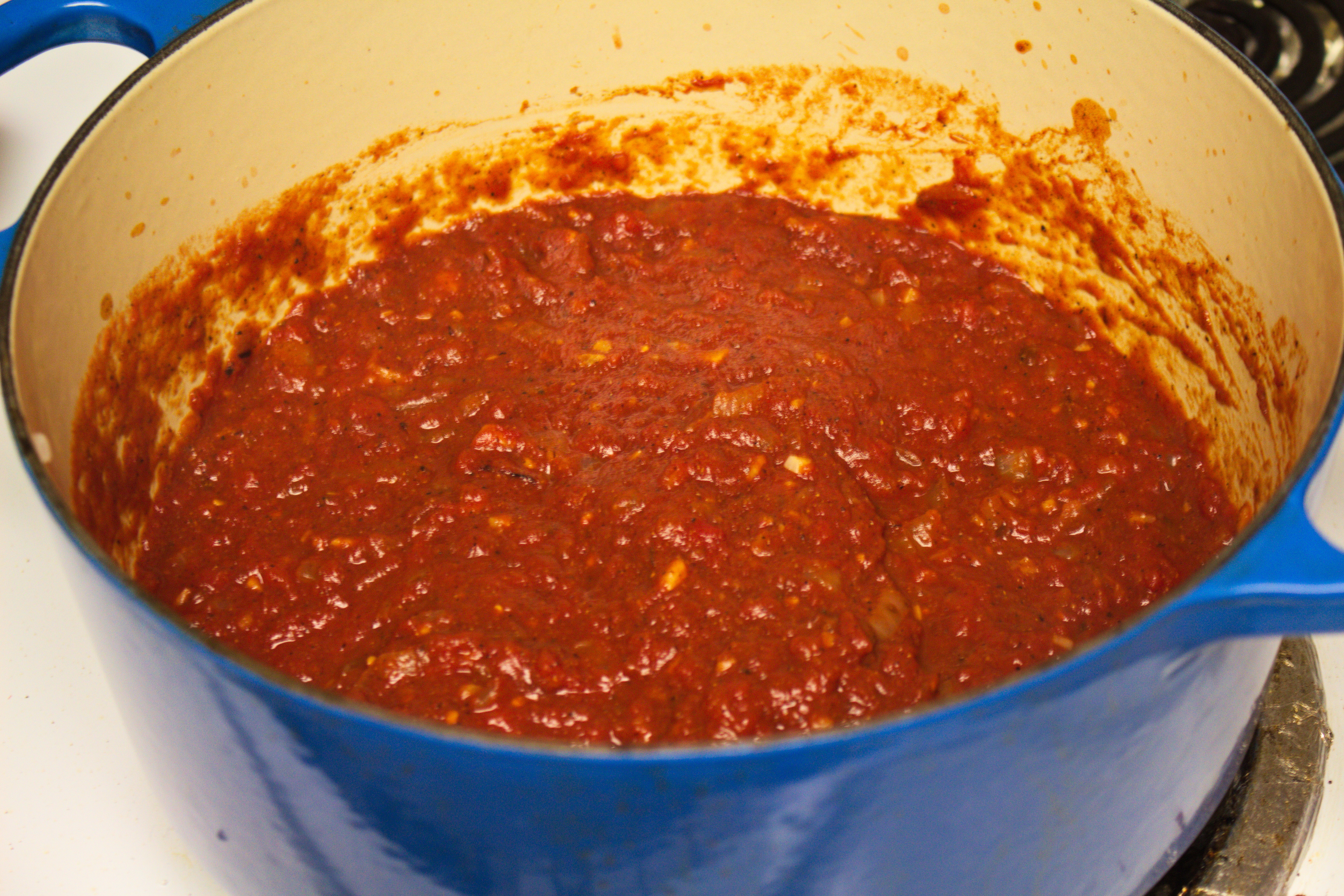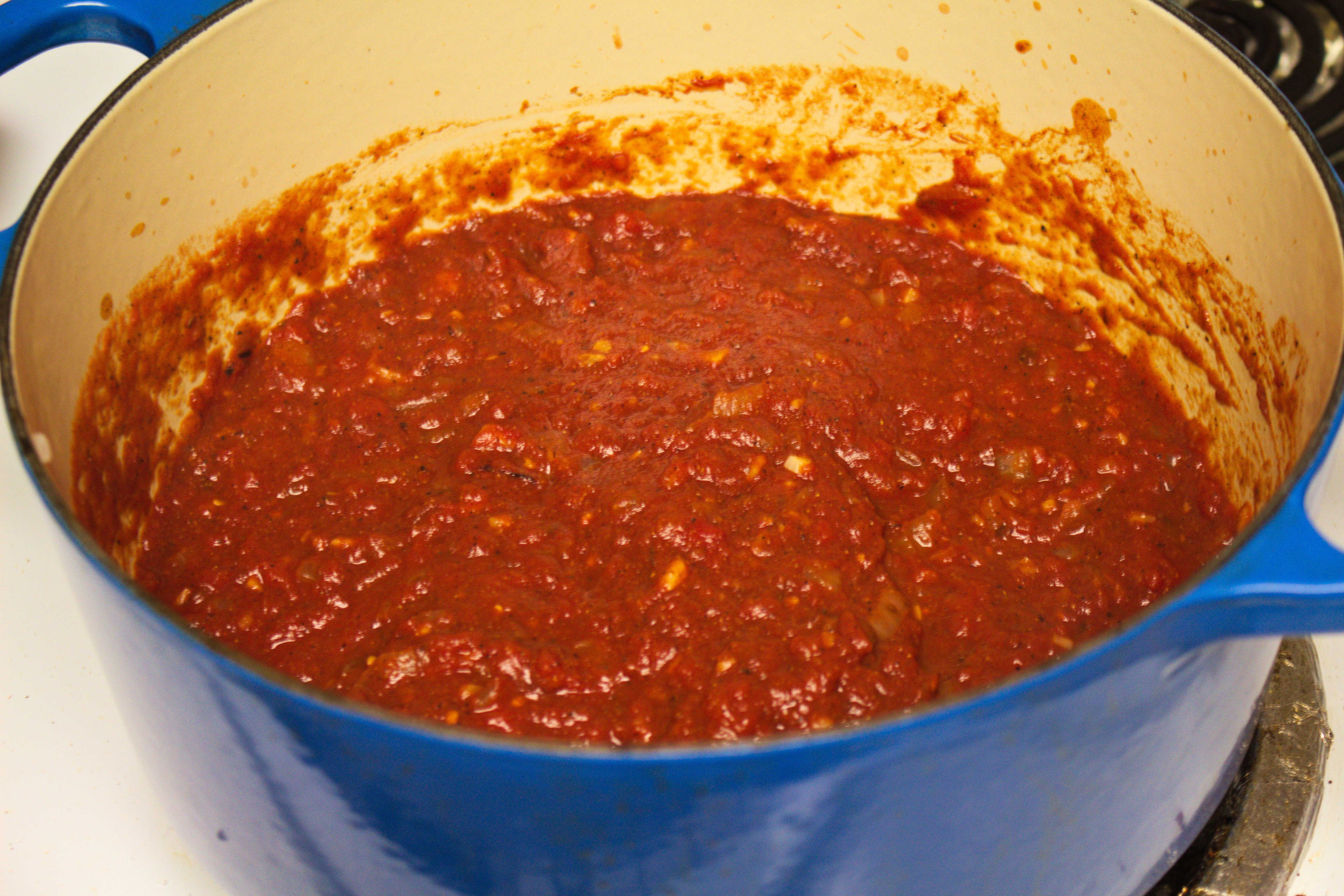 While that is simmering, broil the chicken for about 7 minutes per side. I like to get the chicken moderately charred as shown, it adds to the flavor.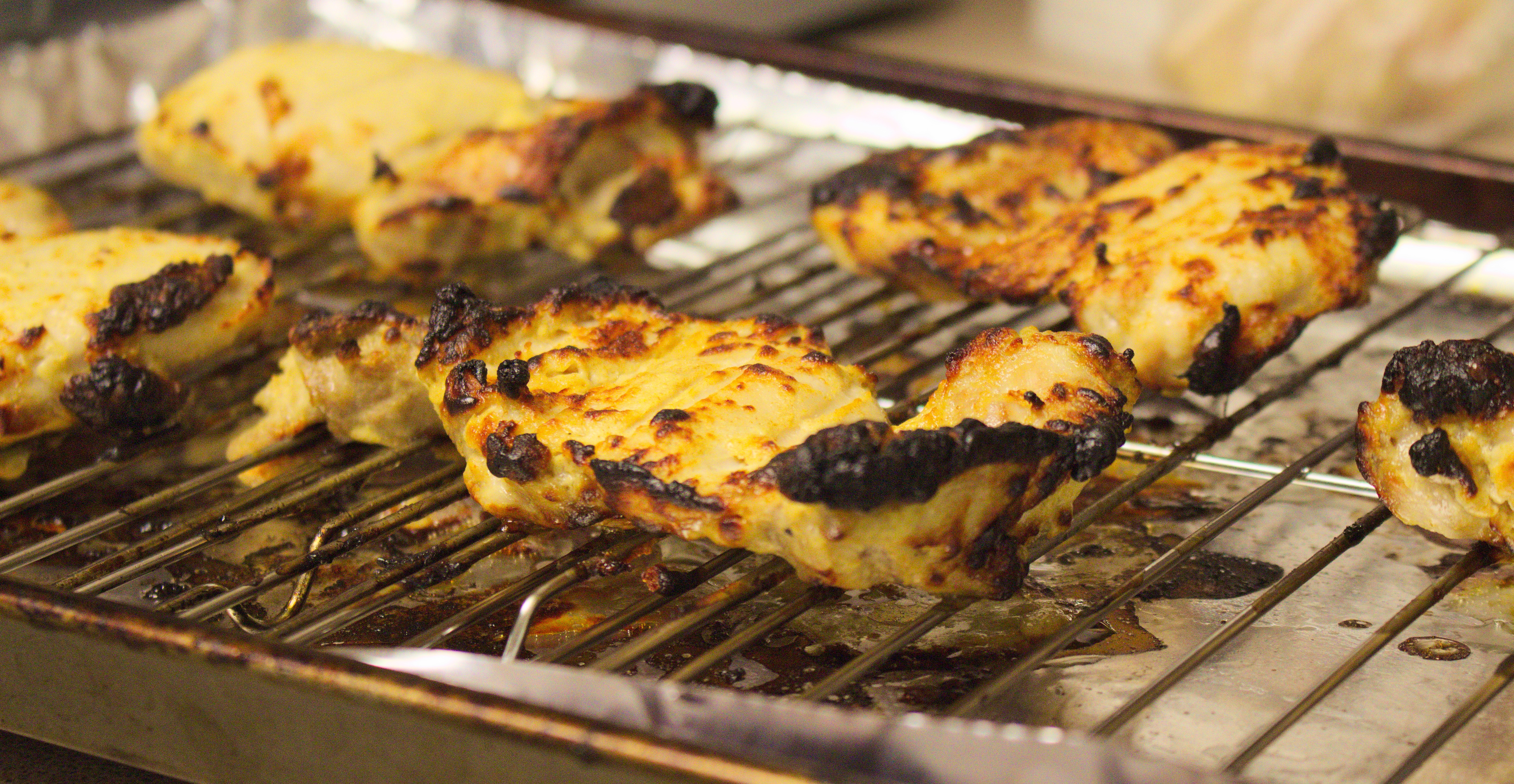 Once the sauce is about done, add the cream and simmer for a few more minutes. This will give the distinctive orange color. Chop the chicken into bite-sized pieces and throw into the sauce.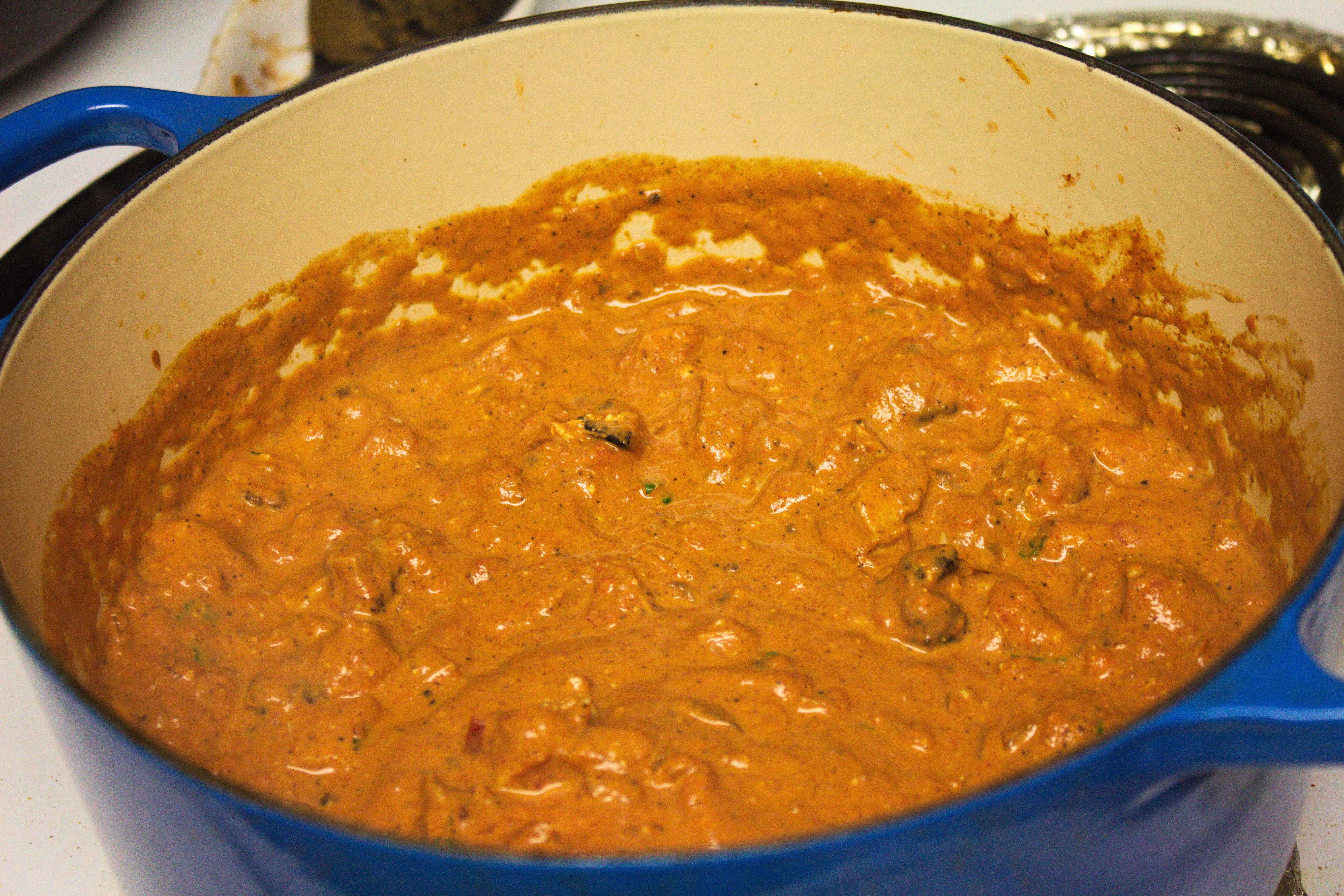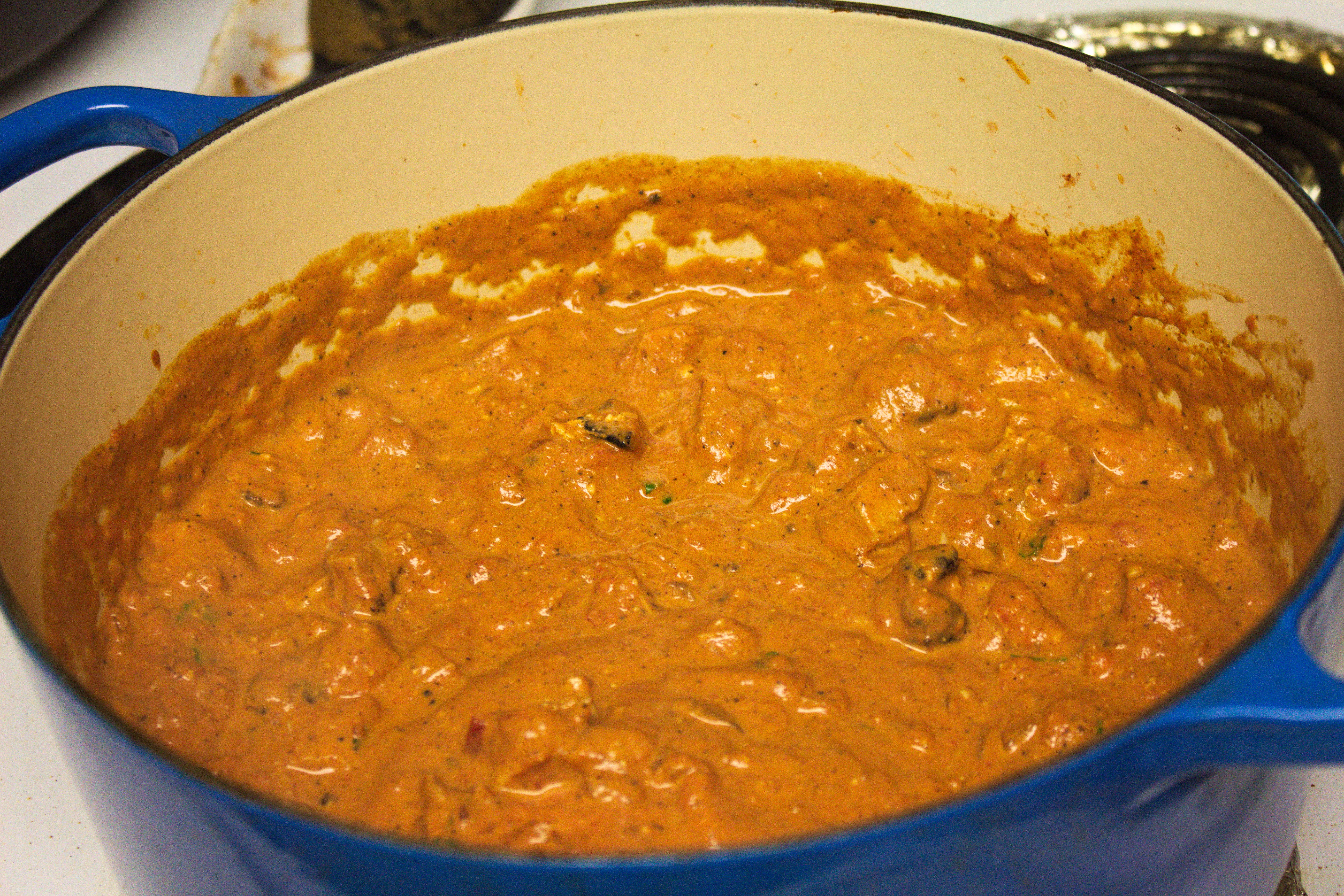 Add some fresh cilantro and serve over Basmati rice!
Chicken Tikka Masala
Prep Time: 3 hours
Cook Time: 45 minutes
Yield: 4-6
Ingredients:
1 to 1 1/2 pounds boneless, skinless chicken thighs

1/2 Cup Yogurt (I use Greek)

Juice from 1/2 Lemon

1 Tsp Cumin

1 Tsp Coriander

1 Tbsp Olive Oil

1 Large Onion, Diced

3 Cloves Garlic, Diced

1 Inch Ginger, Minced

2 Tbsp Tomato Paste

2 Tbsp Garam Masala (more power to ya if you make your own, I just use store-bought)

1 Tsp Paprika

Cayenne, depending on how spicy you like it

1 (28 oz) Can Crushed Tomatoes

1 Cup Heavy Cream

Fresh Chopped Cilantro

3 Cups Cooked Basmati Rice
Instructions:
Put the chicken into a large bag with the yogurt, lemon juice, cumin, and coriander. Marinate in the refrigerator for 3-8 hours. In a large Dutch oven over medium heat, saute the onion in olive oil until translucent. Add the garlic and ginger and cook until fragrant (no longer than 1 minute). Add tomato paste, Garam Masala, Paprika, and Cayenne. Cook for another minute. Add crushed tomatoes and stir well. Reduce heat to low, cover, and simmer for at least 30 minutes. Meanwhile, place the marinated chicken onto wire racks on top of a baking sheet and broil 6 inches under heating element for about 7 minutes per side or until browned and slightly charred. Once done, let rest at least 5 minutes and chop into bite-sized pieces. Once sauce has simmered long enough, add cream, stir, and let simmer another few minutes. Add chopped chicken and some freshly chopped cilantro. Serve over rice and enjoy!