Paella is a traditional Spanish dish that has a rich history and many different methods of implementation. The only thing I really know about it is that the term "paella" refers not to the dish but to the large pan in which it is cooked. And that's probably all most non-Spanish people know about it.
Now, to make real, authentic paella you must devote lots of time and effort (and money, since saffron isn't cheap), and being the lazy American that I am, I felt like devoting very little time and effort.
So, I took this from my father's playbook and modified it slightly to make it better. It is much less complicated than traditional paella, takes a lot less time, and still tastes really good (truth be told I've only had the real stuff once at a restaurant and I thought mine was better).
Anyways, it's basically just packaged yellow rice with some other stuff thrown in. The beauty of this recipe is that, like the traditional dish, you have lots of freedom to choose which stuff you throw in. I recommend the stuff that I show in the recipe, but go ahead and knock yourself out.
The key is to start the yellow rice and veggies at the same time, and then once each addition gets done, just throw it in the pot with the yellow rice. If you want to be more authentic, use a real paella pan, but I just use a pot and it seems to work fine.
Andouille sausage is a must in this recipe, it has such a rich and bold flavor that gives character to everything else in the dish.
First, start the yellow rice according to the package directions, then in a separate pan, saute the onions and peppers for a few minutes. Once they are done, throw them in with the yellow rice and, without washing the pan, immediately put in the Andouille and saute: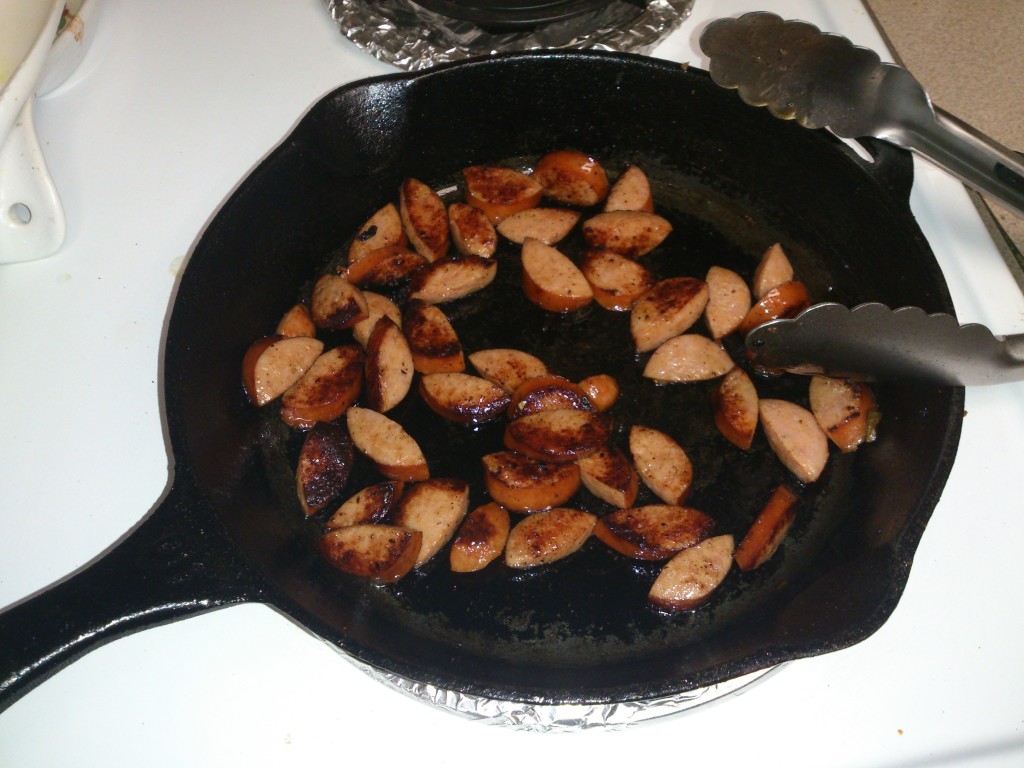 Once it gets nicely browned, throw it in with the rice, onions, and peppers, but keep all that grease in the pan!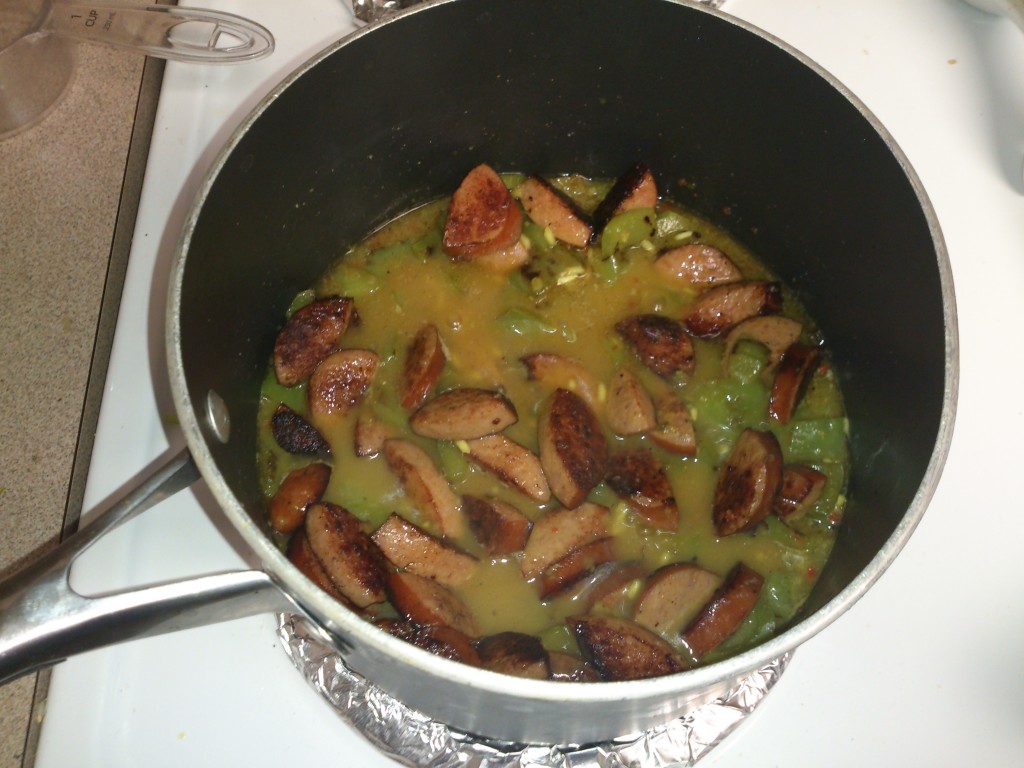 Before anything starts to burn, throw the chicken into the pan and let it cook in the rich flavors of the Andouille grease...mmmmm. Once the chicken is nice and browned (it doesn't have to be completely cooked through because it will finish cooking in the pot with the rice), throw it in the pot.
Once the rice finishes cooking then you can call this one done! I like to throw some frozen peas in at the end for some extra color and nutrition, but that's up to you. If you are feeling less lazy than I did at the time I took these pictures, then you can saute some shrimp in the pan with the sausage/chicken grease and throw it in at the end since it cooks fast.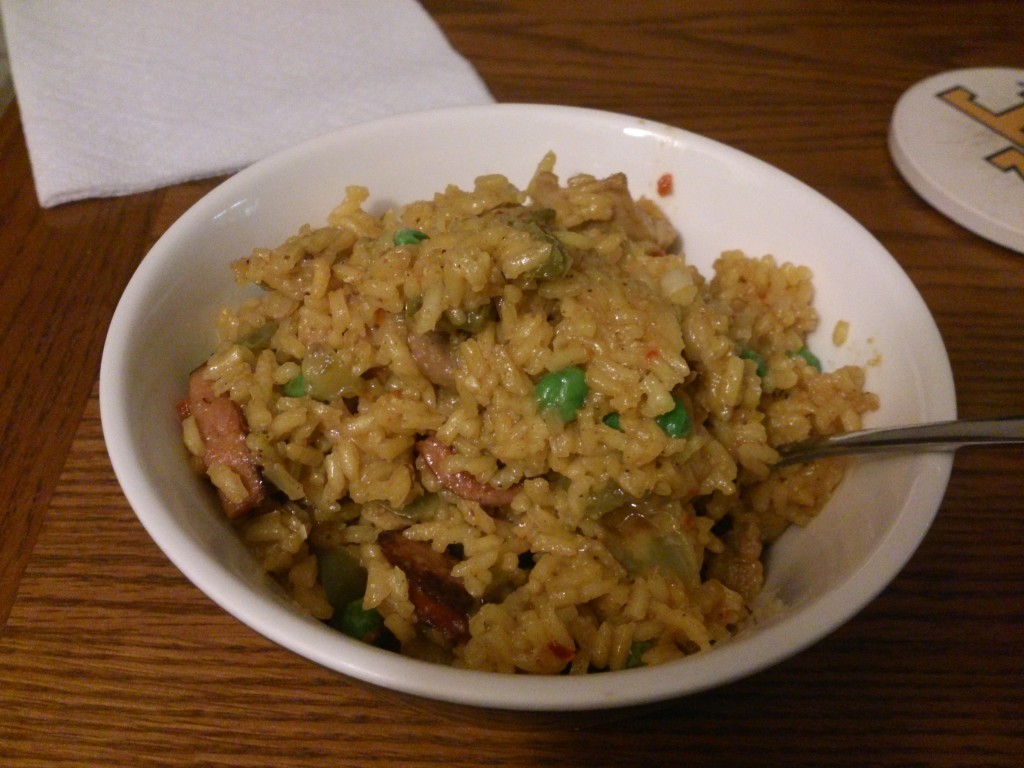 American Paella
A flavorful yellow rice dish that is much easier than real Paella and tastes excellent.
Prep Time: 5 minutes
Cook Time: 30 minutes
Yield: 4
Ingredients:
1/2 Green Bell Pepper

1/2 Onion

3 Cloves Garlic, Diced

14 oz. Andouille Sausage, chopped into half-discs

1/2 lb. Boneless Skinless Chicken Breasts or Thighs, cubed

10-15 Medium Shrimp (optional)

Salt and Pepper, to taste

1 Tbsp Olive Oil

1 8oz. Package Yellow Rice

1 Cup Frozen Green Peas
Instructions:
Cook yellow rice in a large pot according to package directions. Meanwhile in a large skillet, saute the onions and peppers in the olive oil over medium heat until browned, then add to simmering rice. In same pan used to cook onions and peppers, saute sausage over medium-low heat until browned on all sides, and then add to pot with rice. Add salt and pepper to chicken, then place in pan. Saute in reserved grease from the sausage over medium heat until browned. Once done, add garlic and saute for 30 seconds more, then add to pot with rice. If using shrimp, add peeled shrimp to the pan and saute for 2 minutes before adding to pot with rice. Once rice is done, turn off heat, add frozen peas, and cover. Let peas cook in residual heat for 5 minutes, then stir and serve.