About two years ago I decided to purchase an Invicta Pro Diver 8926, something of a legend in the "affordable watch" community.
And it's easy to see why. It was less than $100 when I bought it and it still is (as of the date of this article). For an automatic self-winding watch, that's a pretty amazing deal. But what kind of quality is it?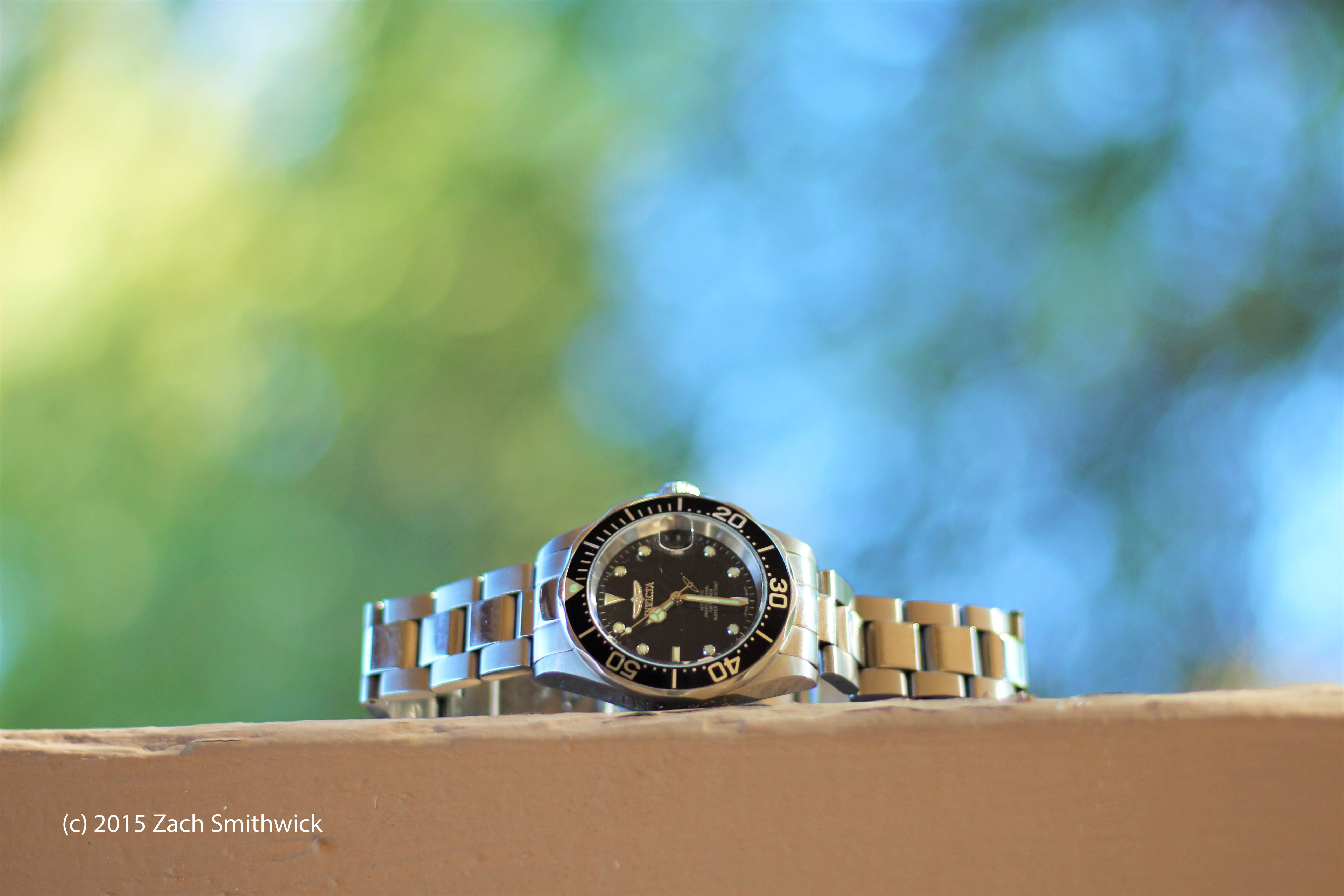 Well, after two years of wearing it about an average of 4 days per week (I rotate it with two other watches I have), it still works just about as well as the day I got it in the mail, so if you crunch those numbers that's about $0.25 per wear, and I'm not done with it yet. The bracelet has several scratches on it by this point as a result of all the trauma I have put it through, but for the price I paid I would say I have definitely gotten my money's worth.
Let's break down the pros and cons of the watch:
Pros:
Cost: Obvious, but still the biggest lure of this watch. Pretty much anyone can afford it.
Looks: The watch is a shameless knockoff of the Rolex Submariner, and honestly I think it looks sexy as hell. Several people have complimented me on the watch and asked what kind it is (and when I tell them that it is an Invicta they seem relieved to know that I am not filthy rich).
Water Resistance: The specification is that the watch is 200m water resistant. I won't get started on what water resistance ratings really mean, but basically 200m is approved for Scuba diving. I haven't actually been Scuba diving with mine yet, but I have been swimming in pools with it, and it has held up just fine. Always make sure the crown is screwed down before you take it in water, though!
**Update: I finally took the Pro Diver Scuba Diving, and it held up just fine after two dives each with a max depth of about 52 feet. So, it actually does function as a dive watch. 
Durability: Like I said, the metal bracelet has a fair amount of scratches at this point, but they are only really noticeable up close and in direct light. The mineral glass used for the case is very durable and scratch resistant, which I have proven multiple times by (accidentally) banging the watch on various hard surfaces. The benefit of such an inexpensive watch is that you don't feel such a need to handle it with kid gloves, and are free to use and abuse it. In spite of that, is has held up quite well for me.
Cons:
Cost: What?! I thought cost was the biggest "pro"? Well, if you are the type that likes watches with an "exclusivity factor", then the low cost of this watch would actually be a con for you. One of the allures of owning a watch like a Rolex is that it instantly shows people how much money you have that you can spend $8k+ on a device that does the same thing as your cell phone.
Accuracy: The Japanese movement found within the case is pretty decent for the price, but does lack the precision of a Swiss movement. My watch on a full wind still gains about 15 seconds per day, and if I go a day without wearing it then the accuracy is even worse. It does, however, have a decent power reserve of about 48 hours, but like I said, the accuracy will be affected if you don't wear it or wind it.
Now, this may be a factor that is inconsistent between serial numbers (cheaper mass produced items tend to have less quality control), as I have heard some cases of people getting watches that only lose/gain one second per day. So if you get lucky, you may get one that has near-Rolex accuracy. There is also a way to open the case and regulate the watch to get more precision, but this is difficult and I didn't have much success when I tried it.
Bracelet: I had assumed that the bracelet had hollow links, but a clerk at a watch store told me they were solid when I told her I was contemplating changing the band out for a better one. In any case, mine gives a slightly annoying rattle if I shake it, as a result of a loose end link. I have tried taking the band off and fixing it, but no success. Maybe once the band gets pretty beat up I will buy a new better one, but for now it doesn't really bother me enough.
Bezel: Now, I really like that this watch has a rotating bezel, it's a really great feature. The bezel on this watch, though, is extremely hard to turn. It took several months of breaking it in before it would turn even somewhat willingly. I guess this could be considered a "pro", though, since the bezel sure as hell won't change once you set it on something.
Conclusion
Overall, this is a pretty fantastic watch for the price. I love the look, the size (40mm fits my wrist just right), and the fact that it is an automatic mechanical watch (something about the continuous second hand just pleases me). If you have been contemplating getting an automatic watch, I think this would be a great one to start with. Even if you have nicer watches, this can still be a great option for casual or sports use, as you won't mind if you bang it around on things.