Randolph Engineering is an American Eyewear manufacturer that specializes in sunglasses for fighter pilots, so naturally I had to get a pair.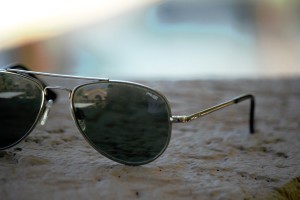 I've been fond of sunglasses for quite some time, and since I live in a very sunny climate and am also a pilot, sunglasses are very important for me. Not to mention I look darn good in them if I do say so myself.
The Randolph Engineering (RE) Concorde model most closely represents the "aviator" style popularized by Ray-Ban, with the distinctive teardrop shape, although the RE pair is slightly less exaggerated. This is not to be confused with the RE "Aviator" model, which has a more squared lens.
What intrigued me about RE is that they are an American eyewear company that is NOT owned by the massive Italian conglomerate Luxottica (look it up, they pretty much have a monopoly on sunglasses). While I still like the look of the Ray-Ban aviators, I couldn't help but think that they seemed incredibly overpriced for a pair of sunglasses that didn't look incredibly sturdy. Now, the RE models aren't exactly cheap (and have actually risen in price since I bought mine), but in my mind I was paying for a more quality product and not a brand name.
I've been wearing my pair of Concordes for over 4 years now (pretty much every day) and they are still holding up despite quite a bit of abuse, so perhaps my judgement of quality was on point.
Product Specs
The Concorde sunglasses I own feature glass (yes, actual glass) lenses in the "AGX" tint, which has a slight green color. What I like about this tint is that it makes natural colors vibrant in bright sunlight without distorting them. I tend to not like tan lenses because they heavily distort colors (although they are apparently best for overcast days).
The lenses I got are non-polarized, which I prefer since I am a pilot and when flying a plane it is bad to have polarized sunglasses because they can make instruments unreadable and also prevent you from seeing the glare off other planes. You can get any RE frame with polarized lenses, although it costs significantly more.
When I got mine 4 years ago, there was an option to choose between different temple styles with the various colors and lens types, but now it seems they force you to get the bayonet temples with the gun metal frames or the skull temples with the bright chrome frames, for example. I have the gun metal finish with the skull temples and I like that combo, but it seems you can't do that anymore (maybe you can special order it).
In case you didn't know, "bayonet" temples are a straight and thin piece that fits between your ear and skull, whereas "skull" temples are a more tradition curved piece that hugs around your ear. The bayonets are best if you were to use these sunglasses solely for flying because they slide right behind your ear and don't press into your skull with headsets on, which is nice. I was afraid, though, that they would slide off my face too easily if I looked down without headsets on, and since I planned to use these sunglasses for more than just flying, I figured the skull temples were the best choice for me.
As per my reviews, I'll break it down with a nice pros and cons list:
Pros
-Durability: I can't count how many times I have dropped these sunglasses from chest height onto bare pavement and they have come out unscathed. Well, mostly unscathed. I think there is beginning to be a slight bend in one of the temples, which is only really noticeable when they are both closed. Still, pretty good. And if you were worried about the fact that the lenses are glass, don't be. They are an extremely resilient glass that is highly resistant to scratching, and even if you do get a scratch on them they usually buff right out.
-Fit: I'm on the fence as to whether or not I chose the right size (52mm) for my face, I sometimes think they are a tad small, but they do come in 3 different sizes with a nice sizing chart on the website so hopefully you can find one that fits you.
-Attention to Detail: When you look at the sunglasses up close you can tell that the little screws are precisely made and there are even little micro-etchings on the frames. Every pair also comes with a case, microfiber cleaning cloth (which you will need, because glass frames get dirty fairly quickly), and a little tool kit that includes tiny screwdrivers and replacement screws. So far I haven't needed the replacement screws but I have used the screwdrivers to tighten things up a few times. I really like that little touch, because it shows they are made to last a long time...so long that you need to perform a little maintenance on them.
-Cool Factor: I give these a coolness score of 500 Will Smiths.
Cons
-Lens Darkness (of lack thereof): I feel like the lenses could block a little more light than they do. When I am driving or flying or just walking around, they do an excellent job of blocking glare, but if the sun is directly in front of you and unobstructed then it doesn't really seem like they do a whole lot. Granted, no sunglasses are made to look directly into the sun, but I still think they should provide a bit more protection. With direct sunlight in front of you, it is also possible for other people to still see your eyes through the lenses, so I have to use extreme caution when staring at women by the pool (oh don't act like you don't do it).
-Price: As of the writing of this post, the non-polarized Concordes are going for $159 for the AGX lenses, and $219 for the polarized lenses (on their website). In comparison, a pair of Ray-Ban Aviators sells for $150 (non-polarized) and $225 (polarized), so it seems they are pricing to stay about even with Ray-Ban. The sad truth is that most sunglasses these days are hopelessly overpriced due to various factors (*cough* Luxottica monopoly *cough*), but I guess I would rather pay for American overpriced sunglasses that might actually be made well, so you really just have to determine what your definition of "value" is.
-Temple Closing: This is pretty minor, but when you close the temples they don't "snap" shut, which is fine, but it also makes them hard to slide into the opening of a button-down shirt (which I do sometimes; come at me, style nazis). If you do this, they have a tendency to "pop out" from the shirt, which looks kinda goofy and leaves them prone to falling on the floor if you bend over (see: durability).
Conclusion
All in all, I'm pretty happy with these sunglasses. I've been wearing them for over four years and don't plan on stopping any time soon. If you want to upgrade your sunglasses game from the $20 pairs that you get from those stands at department stores, then I recommend these. Granted, they are a tad on the pricey side, but if you don't throw them on the ground too often then they will probably last you a lifetime.